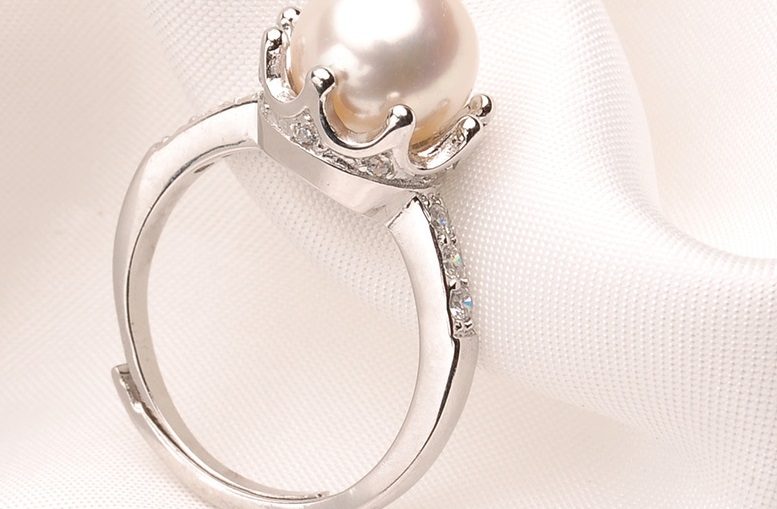 If you are planning to buy a pearl ring, then we try to find a distinctive design. Few guiding tips are given below for the best setting of the pearl ring.
The Typical Pearl Ring Setting
Common setting of the pearl rings that we generally find is the simple fixing. Short pins from top of the ring fixes in the pearl with some glue through a small hole drilled inside. This type of fixing gives the advantage of making the pearl most exclusive, depending on how long is the pin from the base.
This type of design is also simple to make comparison with complex design. Design looks good and sober but not very secure. Sometimes, the hole drilled in pearl broadens up and get loose, the pearl may fall off the ring in such situation.
Prong Setting 
In this design, pearl is held by several prongs from the sides on the ring. Prong setting is safer and it holds the pearls smoothly and securely. The wearer should also be careful while wearing it.
Making the pearl ring safer to wear
You can make your pearl ring more secure by adding a few prongs resembling the body of the ring by the jeweller who provides this type of repairing.
Some money has to be spent in making your ring more fashionable. Surely check the price of the new ring with the ring that has prongs added to it. Depending on the metal and design of old ring, it might be possible that new ring will be almost of the same price as the old one.
Caring of Prong settings 
In prong design setting, you should be alert that thin prongs can wear down, bend or break. Many times, if prongs are not carefully mounted, it can make the pearl to easily fall off. Prongs should be regularly checked by jewellers at certain interval of time.
To choose the problem free ring, it should be made of durable metal for example yellow gold is soft and wears easily, it should be used in the jewellery which is to be worn occasionally.
Good option for regular wearing jewellery is, to be made with platinum that is considered more durable and prongs made from platinum does not wear out easily.